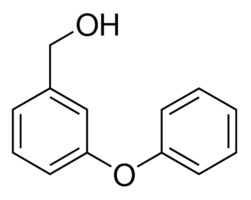 Product Description
META PHENOXY BENZYL ALCOHOL ( 13826-35-2 )

SPECIFICATION
Product Name

Meta Phenoxy Benzyl Alcohol

CAS No.

13826-35-2
Linear Formula
C6H5OC6H4CH2OH
Molecular Weight
200.23
Appearance
Clear liquid with colourless to pale yellowish tinge
Boiling Point

135-140 C/1 mm, 186 C/10 mm, 205.5 C/27 mm
Density at 20 C
1.13 - 1.14
Freezing point
Not freezing up to -40 C
Solubility
Freely soluble in Toluene, Methanol, etc.
Water Content

Not more than 0.2 %.
Assay (By GC)
Not less than 99.0 %.

Meta Phenoxy toluene
Not more than 0.3 %.
Acidity as Meta Phenoxy Benzoic acid
Not more than 0.5 %.
Standard Packing
225 Kg in HDPE Drums

Storage
Keep in a cool and dry place, away from


source of heat, moisture, dust and incompatibilities.
Get in touch with us